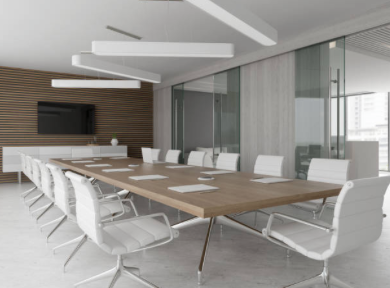 When scheduling your deposition, there is an ever-growing list of items to take care of beforehand. Preparing your exhibits and questions, scheduling a court reporter and videographer, confirming your deponent's availability as well as opposing counsel's availability, etc. While all of these steps are critical to the deposition process, there is another step that is often overlooked: scheduling the location of the deposition. The room where your deposition is held can have a huge impact on its success. Our scheduling team has extensive experience in scheduling depositions on behalf of our clients, and we have gathered the most important factors to consider.
While it is often impossible to choose a halfway point for all parties involved, you should take the location of the room into consideration when scheduling the deposition. Try to make it as feasible as possible for all participants. If a participant is located across the country, he or she may wish to participate in the deposition via Multi-platform Video Conferencing (MpVC). MpVC can significantly cut down expenses and travel time.
When choosing the room for your deposition, you must consider all parties involved. You want everyone to be comfortable. Also, court reporters and legal videographers need enough room to set up their equipment. If a room is too crowded, it can cause the deponents to become uncomfortable, which can affect their performance. Also, a room that is too small can become very warm. However, if you schedule a conference room that is too spacious, you are paying for extra space that is not needed.
If your deposition is being videotaped, you must consider the room's noise levels, as noise can significantly impact the audio quality of the video. Is the room filled with windows? Is it located on an extremely busy, noisy street? Is its air conditioning system loud and distracting? These are all questions to consider when scheduling a space. Frequent loud noises will not only be picked up on the video's audio, making a poor exhibit if needed in trial, but it also can prevent the deponents and the court reporter from hearing the questions clearly.
As mentioned before with the noise levels, the lighting of the room can greatly impact the quality of the video footage. A dark room not only makes the video footage hard to see, but also could cause participants to have trouble reading the exhibits and legal documents. However, a room that is too brightly lit can also affect the video footage, and cause people to have headaches. You want a room that is comfortably lit.
Electronic capabilities. The room needs to have plenty of outlets (that actually work) for both the videographer and court reporter. Also, if you plan on playing a video/presentation or video-conferencing a participant in, you need to make sure that the proper equipment is in place. Nothing can hinder a deposition like a faulty outlet or lack of technology.
Now that you know what to look for in the ideal space for a deposition, you can rest assured that your next one will be a hit! Do you need help with scheduling? Our Scheduling Department can take care of your scheduling needs across the globe. Visit https://www.obrienandbails.com/schedule-a-deposition/ or contact 269-345-8436 to get started!