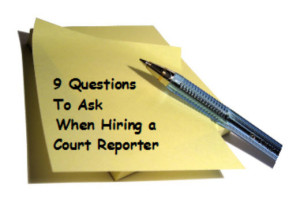 From time to time, you may need to hire a court reporter for a deposition or other legal proceeding. If you haven't chosen a court reporter before, you may not know where to start. The record that will be created by the court reporter is important to you and your client. It is crucial that you find a court reporter that is good and reliable.
But how do you go about choosing a court reporter? There are local court reporting firms in your area. It is a good idea to choose carefully among them. There can be differences in their services and fees.
To help you navigate your way through the myriad of choices of court reporters, we have a list of questions you should ask when first contacting a court reporting firm.
1. How are your court reporters certified and trained?
Many states require court reporters to pass a state certification test before working in the field. It is a good idea to make sure the court reporter that will be scheduled for your proceeding is state certified. The National Court Reporters Association (NCRA) offers similar certification. If your state does not require state certification, request a court reporter who holds the NCRA certification.
2. How much advance time do you need to schedule a court reporter?
There may be circumstances where you will have only a few days to schedule a court reporter. You will want to be sure that the reporting firm you are working with is able to schedule last-minute proceedings if necessary.
3. Can I schedule a court reporter using your website?
Many court reporting firms now offer online scheduling. This means that you can arrange for a court reporter, even if it is after hours and the reporting firm's offices are closed for the day. This convenience can be a real benefit and time saver.
4. How much will it cost to hire a court reporter and order a transcript?
A good court reporting firm will be able to quote you a page rate for your transcript, appearance fee, as well as other services that may be provided. Before scheduling a court reporter, don't be afraid to ask for details of rates and fees that you will be charged.
5. When will I receive my transcript?
Most court reporting firms can tell you the normal turn-around time they offer for transcripts. Be sure to ask about expedited transcripts. Each firm can vary on what they consider to be an expedited or rush transcript. Some will have varying prices depending on the length of time they are given to produce the transcript. Ask if they are capable of providing transcripts on a rush or expedited basis if needed.
6. Do you provide realtime reporting services?
If you would like to hook up to a court reporter's computer and view the testimony on the screen as it is recorded, you will want to request a realtime reporter. Ask if the firm provides rough draft transcripts. A rough draft transcript is an unedited transcript that you receive upon completion of the deposition or shortly after. These rough drafts can help you continue preparing your case even before the official transcript has been completed and delivered.
7. Can you schedule out-of-town depositions?
It is a great convenience to you if your court reporting firm of choice is able to schedule out-of-town services for you. Some court reporting firms have a vast network of court reporters in other areas of the country that they can call upon to schedule your out-of-town proceeding. If your court reporting firm can provide this service, you will save time since they will handle the details of scheduling for you. Court reporters who refer work will usually refer you to only the best court reporters in an area.
8. Do you have conference rooms?
There are times when you need to schedule a deposition and you need to find a place to hold the proceeding. Many court reporting firms offer conference rooms as one of their services. If you are looking for a place to hold your proceeding, ask what space they have available.
9. Do you provide video depositions or video conferencing?
If you are thinking of scheduling video depositions or need videoconferencing capabilities, ask your court reporting firm if they offer these services. Many court reporting firms offer video deposition services. They will either have an experienced videographer on staff or work closely with one in their area that they can schedule for you.
The role of a court reporter is important to you and your client. Knowing the right questions to ask when choosing a court reporter will allow you to confidently hire the right court reporter for the job.
If you found this article interesting, you may also like "Fair Pricing of Legal Transcripts by Court Reporters".