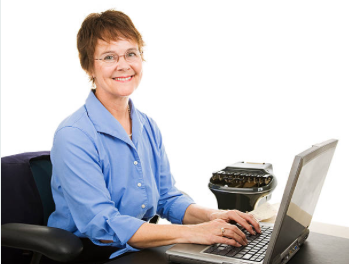 We live in a world of ever evolving technology where each day brings a new gizmo and gadget. While this makes life easier and more efficient, it also threatens the job security of workers across all industries. If you are in the court reporting or legal industry, you have most likely heard the ongoing chatter of court reporters being replaced by voice recording technology. We are here to reassure you that technology will not be replacing the roles of court reporters anytime soon due to more reasons than one:
The legal industry is no exception to the time = money concept. In fact, it is one of the most time sensitive industries. Court reporters must produce accurate transcripts of depositions and trials in a timely manner. More often than not, they are producing a transcript with a very quick turn around time. Their ability to do this depends on their ability to know who is speaking, read lips of soft spoken talkers, mark key sections of the transcript, highlight code text, and make notes to reference later all while the trial or deposition is happening. Some reporters provide real time, which allows legal parties to have instant access to a live transcript feed as the reporter is writing it. However, this is not 100% cleaned up, and may not include punctuation that the reporter goes in and adds later. Individuals who are not on site utilize real time reporting to stream from their location, which saves them both time and money on traveling.
Regardless of how voice recording has evolved over the past decade, it still is not as accurate or trustworthy as a seasoned court reporter. Why not? In depositions and trials, there are multiple speakers. These individuals may have heavy accents, talk rather fast, or get emotional. Not to mention, the speakers can interrupt one another or talk at the same time. Technology is not capable of asking someone to repeat what he or she said, or preventing people from talking over each other like a court reporter can. This could cause costly mistakes in the transcript for all parties involved.
The misconception that court reporters will soon be replaced stems from the notion that voice-recording technologies would cost less than having to hire a court reporter. However, this is simply not accurate. Law firms would not only have to pay for the software, but they would also have to have it hardwired and purchase storage for large digital files. This could cost anywhere from $40,000 to $50,000. When you utilize voice recording technology, you must also have an IT professional available to resolve any malfunctions that may occur. When you add up all the costs associated with the voice recording system, it is more accurate, affordable, and feasible to simply hire a professional court reporter.
While technologies have impacted and enhanced the court reporting and entire legal system at large, human judgment remains invaluable. At O'Brien & Bails, our team of professional court reporters are not only willing to adapt to the new technologies that have entered the legal system, but also embrace them to become more efficient and effective for our clients. It is our unwavering commitment to our clients' success and passion for the practice of law that will enable us to endure the coming decade as we have for the past 61 years. We aren't going anywhere. Learn more about our court reporting services at: https://www.obrienandbails.com/court-reporting-services/