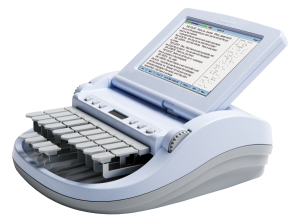 In an article on About.com, the profession of Court Reporting is listed as one of 10 Hot Legal Careers for Non-Lawyers.
We agree! Court reporting is a good profession.
A court reporter is a very important piece of the legal process and holds a well-respected position in the legal world. Court reporting can be a great career. As a court reporter, every day is different and interesting. You listen to testimony of many different people on a variety of topics. You are always learning something new as you make the official record that will be used in a legal proceeding.
If you are considering court reporting as a career, you should first understand the role of a court reporter in the legal profession.
What is a Court Reporter?
A court reporter sits in the court room or in a deposition and takes down every spoken word during the proceedings. Court reporters prepare official transcripts of the sworn testimony for use by attorneys, judges and litigants. These transcripts are used as the official record of the events that took place during the hearing, deposition or trial. Reporters are responsible for certifying that what has been entered is accurate and true to the best of their ability.
How Does a Court Reporter Make the Record?
Court reporters use a computer and stenotype machine to take down the spoken words they hear. The stenotype machine allows the reporter to use a form of shorthand by using sounds of words to record data. The computer uses software called computer-aided transcription to translate the information into English.
Are there different kinds of court reporters in the legal industry?

Traditionally court reporters fall under two different categories: Judicial and Freelance.
Freelance Court Reporter
Freelancers work for court reporting agencies which are hired by law firms, attorneys, corporations and other organizations. These agencies work with freelancers to cover depositions, examinations under oath, hearings and board meetings. Freelance court reporters can be considered independent contractors or employees, depending how the court reporting firm is structured.
Freelance court reporters are typically on-call. Most agencies call a reporter one day in advance of an assignment. One perk of being a freelancer is that you usually travel to different locations. Some reporters enjoy this aspect and prefer not to work in the same location every day. Another benefit of freelancing is that you get to return home after the job is done to work on transcription and you can work comfortably in your own home. Many states require freelance reporters to obtain certification by the state before they begin working as a court reporter.
Official Court Reporters
Official court reporters are employed by the courts and are sometimes assigned to a particular judge or courtroom. They can cover a variety of court cases, from lower court cases to high-profile cases, depending on which district or court they work in. Many jurisdictions require official reporters to pass certifications, such as the RPR (Registered Professional Reporter) and CRR (Certified Realtime Reporter), that test their written knowledge and skills before qualifying to work in the courts. But even upon passing the required certifications, being accepted for an officialship normally takes time. It is common for reporters to wait years before being considered since courts receive a high volume of applicants. Many reporters desire an officialship since it offers more stability when compared to freelancing. Official reporters have set salaries, set hours, and benefits such as health insurance and pensions. There are also opportunities to earn additional money on top of your set salary when attorneys order transcripts.
What Role Does a Court Reporter Play in the Legal World?
A court reporter is responsible for keeping the official record. As an officer of the court, a court reporter acts as a representative of the court even in a deposition setting outside of the courtroom. He or she is also the person charged with swearing witnesses by administering the oath.
Court reporters are shown much respect from the legal community, be it attorneys, paralegals, legal assistants or judges. Court reporters earn this respect by taking very seriously the responsibilities imparted to them. Many reporters enjoy this earned respect and find the legal field a pleasant environment in which to work.
If you are considering a career in court reporting, you also might like to read "Finding the Right Court Reporting Program For You."